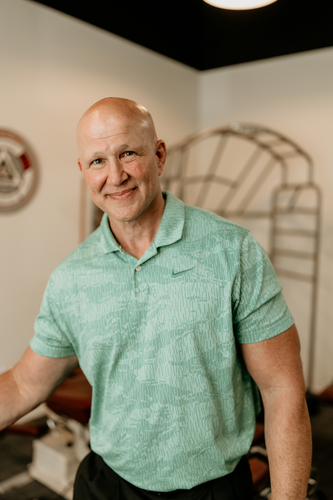 Dr. Brian has been practicing Chiropractic since graduating from Palmer College of Chiropractic in 1987. He has had the privilege of working at many clinical settings, including offices that combined Chiropractic with physical therapy and medicine.
Dr. Brian is a Level 2 CHEK provider, certified in Functional Movement Screen, and is a Level 2 certified provider in Selective Functional Movement Assessment with Gray Cook. Dr. Brian has completed his fellowship in applied functional science at the Gray Institute. Dr. Brian is certified in Cox Flexion Distraction Technique and spinal trauma. He has also studied Dry Needling. Dr. Brian has been a fully certified Active Release Soft Tissue Provider since 2000.
Dr. Brian has evolved and continues to grow in his philosophy and treatment of soft tissue injuries. He has realized you are only as good as your examination. Limiting your examination and treatment to only the area of complaint is a recipe for failure. Dr. Brian has concluded that there must be knowledge of the kinetic chain and how the body integrates together—having an excellent eye for motion and an ability to feel when motion is broken. This model changes everything in the real world. If someone comes to him with a low back complaint, he addresses it holistically. Dr. Brian evaluates the foot, hip, midback, shoulder, and neck motions because they all could be culprits.