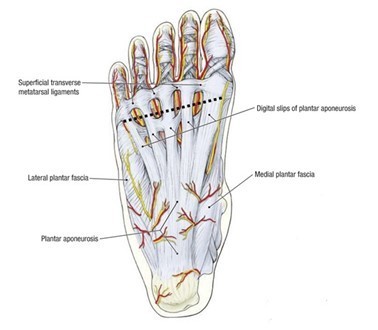 Every day thousands of adults wake up with plantar heel pain. Literature states that plantar heel pain happens to be the most common complaint for patients seeking medical treatment for their foot. The majority of the time the heel pain experienced by a patient is due to plantar fasciitis. In fact, ten percent of adults will experience plantar fasciitis at least once in their lifetime. Plantar fasciitis also accounts for an estimated one million medical visits each year.
The plantar aponeurosis consists of three parts: medial, lateral, and central bands. The central band of the plantar aponeurosis is what is deemed as the plantar fascia. The plantar fascia originates at the calcaneal tuberosity and inserts itself into the heads of the metatarsals of the foot. The primary job of the plantar fascia is to aid in the toe-off portion of the gait cycle. The plantar fascia when working correctly also serves as a means of shock absorption for the foot. Plantar fasciitis occurs when the plantar fascia becomes inflamed. While the exact etiology of plantar fasciitis remains unclear, it is speculated that the inflammation is the result of repetitive micro trauma to the foot.
Repetitive micro trauma causes small tears in the plantar fascia, causing the tissue to begin to fail. This, in turn, causes the plantar fascia to become inflamed, and the patient begins to experience plantar heel pain.
Patients with plantar fasciitis usually present with similar symptoms. The majority of the time a patient suffering from plantar fasciitis will state that they are experiencing pain focal to the plantar fascia's insertion at the calcaneus. The pain is also usually characterized as a stabbing pain. Plantar fasciitis patients will many times complain that their pain is greatest in the morning with the first few steps in the day. Normally this pain will subside with subsequent steps. Plantar fasciitis also tends to affect only one foot, although bilateral plantar fasciitis can occur.
How can this all be prevented?
1. Keep your hips strong in order to keep pressure off your foot.
2. Keep your foot and calf stretched (see 3d calf soleus stretch on www.eastsidewellnesschiro.com)
3. Keep the deep muscles of your feet awake using exercises such as the Janda short foot exercise.
4. Other options include kinesio taping and changing footwear regularly as well.